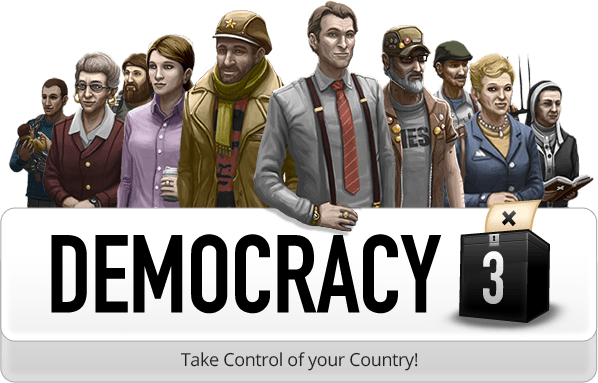 Think you have what it takes to become a political powerhouse?  Can you resonate enough with the general public and the values they hold?  Can you create a booming economy, or risk driving it into the ground?  Will you secure another term in office by retaining the majority of votes in the next election?  Keeping the population happy is far easier said than done, especially when so many people are clearly divided in their views.  Well, you'll certainly have to try if you want to hold your prestigious position as President or Prime Minister in Positech Games latest entry in their political strategy / simulation series of games.  Welcome to Democracy 3!
I don't think anyone could argue just how brilliant the above trailer looks.  It captures the spirit of modern democracy while displaying what makes Democracy 3 the game such an interesting, diverse, and unique strategy / simulation.  Democracy 3 looks like it has all of the rich features and deep strategy that made predecessors in the series so increasingly popular over the years.  More importantly though, the gameplay in Democracy 3 has been revamped with even more choices and decision making, and far more in-depth statistics that show just how effective or ineffective you've been during your reign as political leader.  There is a level of complexity to understanding these statistics and how each decision you make can have both positive and adverse affects.
What also sets the game apart from other strategy / sims of it's kind is that it can be played by the casual or avid gamer, and hardcore strategists alike.  Democracy 3 has an extremely polished look to it as is.  Right now the game appears to be well-balanced but is still being refined, tweaked, and updated during the current beta.  With Positech Game's awesome track record of fine-tuning, tweaking, and listening to player feedback and implementing new features, I have no doubt that Democracy 3 will be the only political strategy game of it's kind, and the only one worth playing, for many years to come.  Head over to the Democracy 3 official website where you can learn more and also pre-order the game.
Democracy 3 is currently in 'beta' which means there may be some bugs or some balance issues. If you pre-order the game now you get to play this beta build of the game right away.  Buyers of the game get download links to PC, Mac and Linux builds of the game.  Everyone who pre-orders Democracy 3 will get a steam key which allows you to activate the game on steam when it is released.