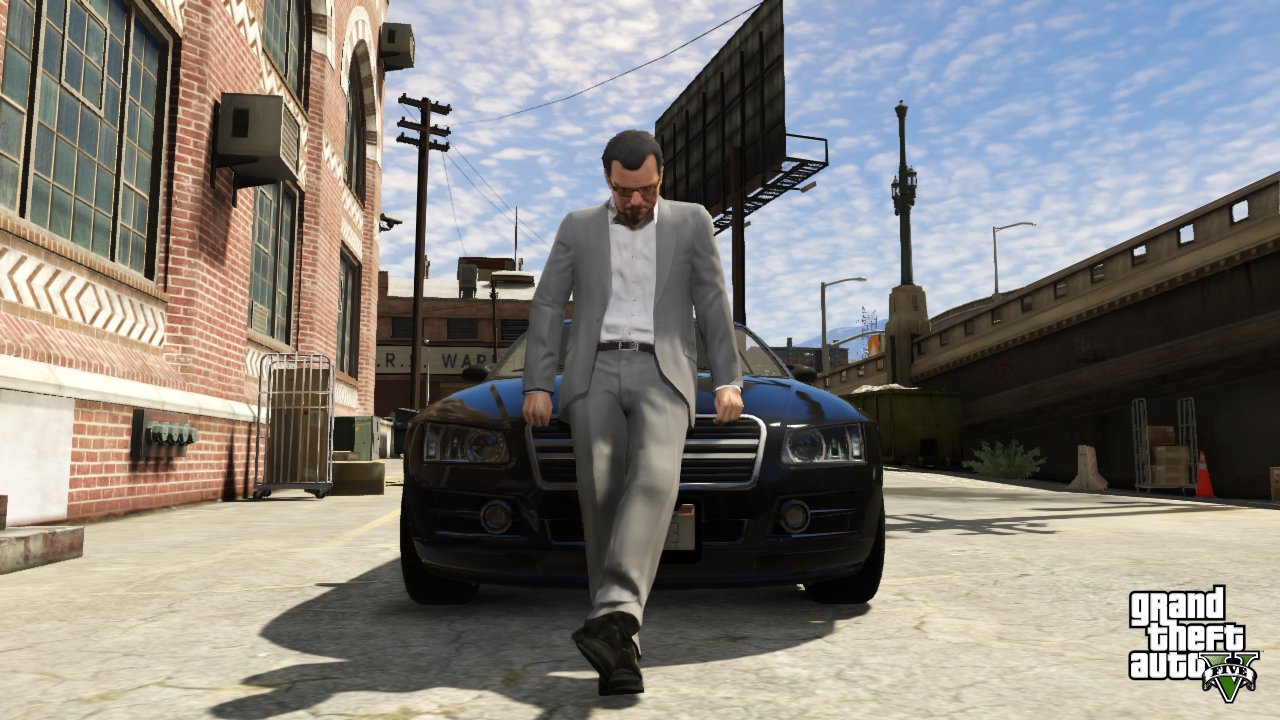 Rockstar had set the bar pretty high with it's other open-world sandbox game, Red Dead Redemption, and unfortunately they've failed to surpass or even reach that bar in their latest GTA effort.  It should be mentioned than I'm a long time fan of the series, having played the original Grand Theft Auto (the top-down 2D prequels) and I was blown away by Grand Theft Auto 3 when it first came out on the Playstation 2.  It was a step above and beyond what we were used to in an open world setting, with almost life-like characters inhabiting a sprawling and bustling city.  It's almost a shame that GTA V has received so much hype from the game industry, because it might actually be a good game, but it definitely falls short of the greatness that everyone claims it achieves.
Grand Theft Auto V received rave reviews and perfect ratings from numerous video game media outlets.  Meanwhile, back in reality, GTA V proves to be yet another GTA game.  It attempts to carry a narrative involving 3 different main characters.  It occasionally succeeds, but it does nothing new, innovative, or wholly refreshing, and it's certainly not worthy of all the gushing and ass-kissing done by the mainstream media.
Many of the journalists who reviewed the game and gave it a 10 were also uncomfortable with a couple of the scenes within the game (one scene in particular – which I actually felt came off as more childish and immature than legitimately controversial).  Yet, these reviewers who clearly didn't like the scene, gave the game a perfect rating.  The scene I'm talking about is the torture scene which, in contrast and comparison to all of the killing and wanton destruction you'll be doing throughout GTA anyway, came off as both forgettable and unworthy of all the attention.
You kill and maim indiscriminately throughout the course of GTA's entire story, so I really don't see what the big fuss is all about anyway.  It's odd that journalists would say that the torture scene is without context, considering the torture scene involves characters dealing with a terrorist and known spy.  It's the plot points and twists within the story that are left without context, not the individual scenes themselves.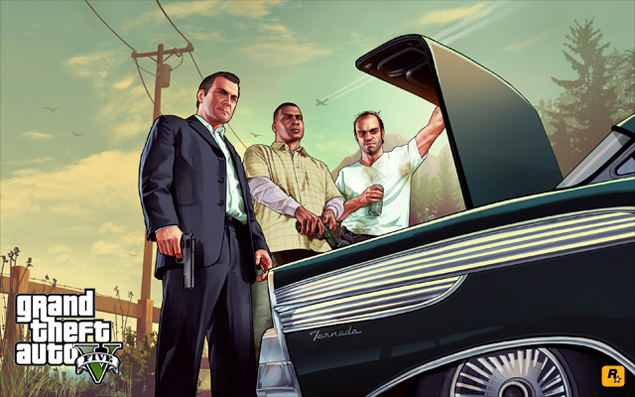 Grand Theft Auto V can be a good game at times, but it's really nothing more than a few minor graphical and mechanical improvements over GTA 4 and it's subsequent expansion packs.  Even though the driving and vehicle handling in GTA 5 is better than GTA 4, it still feels like a step down from GTA 3 and Vice City.  I've still got all of those games so it's easy for me to make comparisons.  As for switching characters on the fly, that's really nothing new either.  Anyone who has played Battlefield 2: Modern Combat knows that this is an old trick and game mechanic.  It's useful within GTA 5′s story at times, but more often than not the feature feels like an afterthought.  Quite frankly, if you're only playing so that you can choose between 3 different characters this time around, then do yourself a favor and pick up Sly Cooper, because you'll care about the characters more in that game.
Let me start by saying that all of the characters in GTA 5 are despicable.  None of them are relatable or even likeable for that matter.  There are moments where the characters have a bit of interesting or humorous banter between them, but those moments are few and far between unfortunately.  What does stand out fairly early is how forced the dialogue is.  The writers behind GTA 5 obviously felt they were making a blockbuster movie of a videogame, but none of the dialogue comes across as natural or fluid without seeming entirely forced, with one small exception: Trevor's character.  Even Trevor can have forced dialogue at times, but his is the only character that truly comes across as a GTA game "character" and not just an actor.
The main characters in GTA 5 are:
Michael, the main, main character, comes off as the archetypical and stereotypical white guy criminal going through a mid-life crises and is suffered by his early 2000′s "nuclear white family" (or so Rockstar would have you believe).  It's clear to me that Michael is supposed to be a somewhat likeable character, but Rockstar failed to develop any real relatable qualities within Michael's character.  Niko from GTA 4 was a much more relatable character who was constantly stuck on the wrong side of the law even though he didn't really want to be there.  Unfortunately, Rockstar never lets the player develop or shape their characters the way that they would like and so we're left with a game series that has failed to evolve as far as the story is concerned.
Franklin, the archetypical and stereotypical black guy, who is of course from "tha hood", is a gangbanger, a part-time under-the-counter repo man, is also officially unemployed but owns an expensive Sports Car, and is also surrounded by friends who are hell bent on getting him killed.  Rockstar has tried making Franklin a street savvy and likeable crook, but yet again, fail to deliver the goods when Franklin proves to be nothing more than a dumbass who is as gullible as a child and who does exactly what he's told, when he's told, even though he's supposed to be smarter than the people who are telling him what to do.  He's so dumb that before most jobs he explicitly states that he's probably going to regret this.
And then last, but certainly not least, is Trevor.  A psychotic psychopath and maniac who hails from Canada, but (thankfully) doesn't say "Eh" after every other word.  Trevor is the only redeemable character in GTA V, even though he is also the least likeable and most despicable.  Even though Trevor is loud, obnoxious, and constantly crass, he is also the only character that feels like he belongs as a main character in the screwed up world and universe of GTA 5.  He actually has qualities as a character, and his motives make sense, even if they only make sense to himself and his personality.  Trevor also steals the show on many occasions because of the warped sense of humor used in conjunction between the overall plot, his friends and lackeys, and his own mannerisms.  That's not to say that Trevor can't be annoying or downright outrageous even when it's not intended, but Trevor is the only honest character that actually feels like an evolution within the series.  It's no surprise that his missions are also some of the better ones.  To me, Trevor is GTA 5′s one saving grace when it comes to character design and story, and that's kinda sad in a weird way.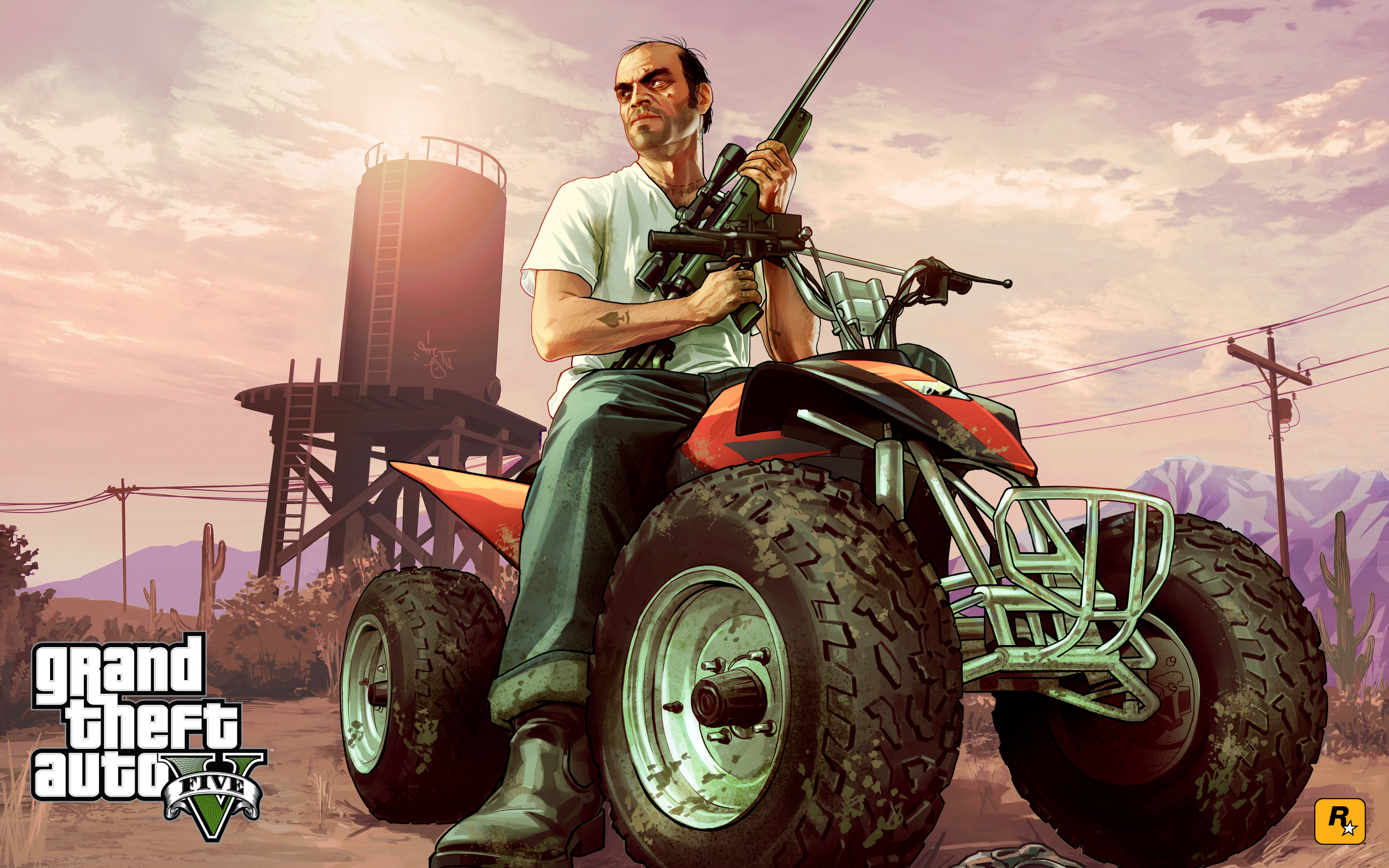 What's most annoying about the GTA series (and many Rockstar games some would argue) are the little things that never get fixed.  Getting your character in and out of buildings and tight quarters is still annoying as hell.  The new "cover" system works well, but the gunplay is far too easy, automatic, and robotic by default.  You actually have to change the game settings so that automatic lock-on is turned off if you want any sort of challenge.
Driving land based vehicles is a step up from GTA 4, but the game feels a little bit too loose now, allowing most of the faster cars to spin out way too easily.  Being able to ride jetski's and sea-doo's is fun but really nothing special in terms of bringing something new to video games.  The addition of submersibles is definitely a novel idea, though using these underwater vehicles is very slow going and doesn't really create exciting gameplay in any way.  The helicopters and planes are back as well, they control only slightly better than the air vehicles in GTA 4 though and you'll find a plethora of other games that grant the player with the ability to fly high while having a lot more fun.  Games such as Just Cause 2, Saints Row 3, and games such as Battlefield 3, and even Battlefield 1943, deliver a more entertaining experience when flying when compared to GTA 5.
All of the little meta-games or mini-games feel exactly like meta-games and mini-games.  There's nothing wrong with them and the option to play tennis, golf, darts, etc, is novel as well, but ultimately unnecessary.  Most of these mini-games will be played once or twice and then forgotten about.  This is mainly due to average mechanics, average control and average gameplay.  There's nothing that really stands out about these tiny distractions.  I'm glad they're there, but I'll hardly use them.
GTA 5 is a big world, but it's not as big as Rockstar or the mainstream media would have you believe.  I've covered the entire map now and although it does seem bigger than previous GTA games, it doesn't appear to be much bigger.  Instead, the map, and the land in and around Los Santos feels more diverse with scenery.  There are nice changes between the urban sprawl of the city and the more wild and remote rural areas of the game.  It's a nice change of scenery for a GTA game, but it's hardly the scale and scope that many would have you believe.
Lastly, there's GTA Online.  This is not a separate game, it's just a separate mode.  It's simply the online mode of GTA 5.  And, even though you can create your own character, it's a lot like the online mode in Red Dead Redemption.  Obviously being able to utilize a larger variety of vehicles and weaponry is great, but once again, it's only an expansion to the GTA 5 experience.  The best part is the media couldn't review GTA Online because it wasn't available, and guess what, it still isn't.  Very few people have been able to get online and if they have it was for a very short period of time.  Considering Rockstar had 2 additional weeks to get things into place for the online mode, it's kind of ridiculous that people still can't play online considering many gamers who purchased the game on day one have completed the main story and are looking forward to the online mode.
So, how does the media and supposed game journalists review and rate a game with a perfect score that obviously isn't very revolutionary, innovative, or even very creative?  How do these people rate a game so highly when the game in it's entirety isn't even stable yet?  I don't know if they were bribed or if they were coerced, but what I do know is that GTA 5 is a game that can be a lot of fun to play, but is definitely unworthy of perfect scores and excellent ratings.  It's an entertaining but flawed experience.  Many of these reviewers and the mainstream media made these same mistakes when GTA 4 came out back in 2008.  It's just unfortunate to see that none of them have learned anything since then.
GTA 5 was meant for adults.  Unfortunately, the GTA series hasn't grown up yet.  This isn't a game for kids mind you, and I highly recommend that parents avoid buying this for their children or young teens.  The mature "nature" of the game means that players should be 17 or older, and I'd agree with the mature ratings this time.  I have no problem with the violence, the swearing, or even the suggestive and sexual themes, but I really don't believe that younger audiences need GTA 5 right now, not when there are plenty of great games to be played as is.  Older gamers should have a great time with the game, exploring the game world, and just hopping around the map in the new and various vehicles.  Just don't expect a much different experience than the GTA 4 mission progression or Red Dead's online mode.  If you liked previous installments of GTA then you'll find things to like about GTA 5.  However, I'm certainly not going to praise the game as though it was the second coming of Jesus Christ.